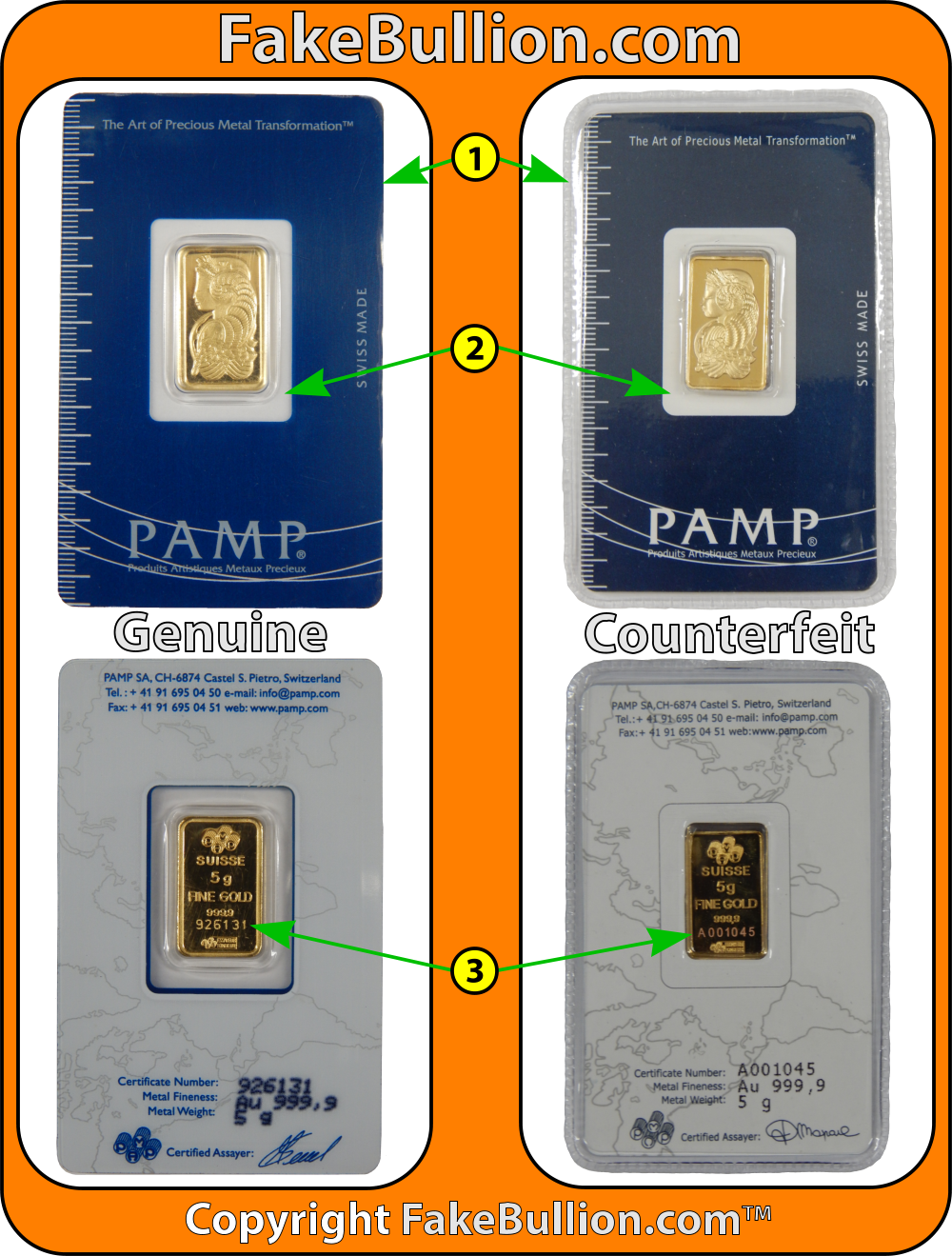 Notable Differences
The genuine assay card has a smooth edge and the background color continues all the way to the edge.  The counterfeit has a crimped plastic edge that extends beyond the colored portion of the card.
The genuine assay card has a clear window surrounding the bar.  The counterfeit has a solid white border around the bar.
The serial number on this genuine bar is stamped on the bar as a series of small dots.  The counterfeit bar has a laser-engraved serial number.

Discussion & Detection
The most obvious difference between these packaged pieces is the edge of the assay card.  The genuine assay cards are of a laminated plastic construction.  They use a stiff plastic card with a built-in pocket for the bar and a clear flat cover over the back.  The layers are bonded across the entire surface of the card (except for the pocket where the bar is held).  The counterfeit uses a cardboard assay card and a two-piece plastic shell that is heat sealed along the outside edges only.  This fake has a solid white border around the bar where the genuine card has a clear window around the bar, however more recent counterfeits do have a clear window in this area.  Another difference on this early generation counterfeit is the printing on the back of the card.  The map lines are not as crisp on the fake, and the lettering and logo are printed in black ink instead of blue.  The printing has been improved on more recent fakes.
The visual differences on this early counterfeit are distinct and easy to spot once you know what to look for.  However, the obvious differences have been improved in more recent versions.  The Precious Metals Verifier is a great option for detecting counterfeits that are sealed in assay cards, where opening the card is not an option or would reduce the desirability and resale price.  Using the Small Wand (be sure to press the bar against the plastic to get it close enough to the sensor to test) on the Pure Gold setting, the counterfeit fell 1-2 blocks outside the brackets to the left, where the genuine bar fell inside the brackets in the right most block or two.