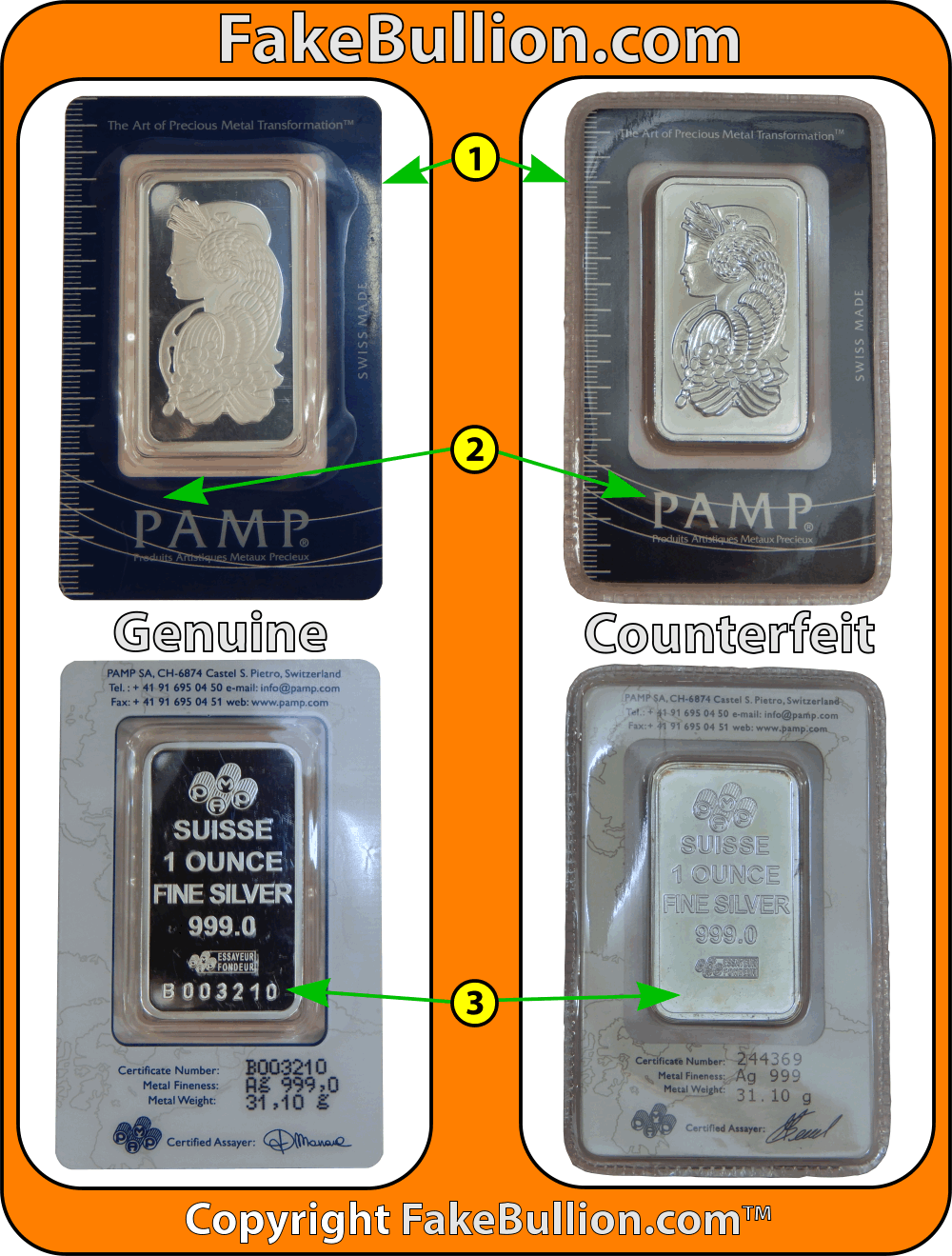 Notable Differences
The genuine assay card has a smooth edge and the background color continues all the way to the edge.  The counterfeit has a crimped plastic edge that extends beyond the colored portion of the card.
The swooping line stays above the first "P" in PAMP on the genuine assay card, but touches the top of the "P" on the counterfeit card.
This counterfeit has a serial number printed on the assay card, but is missing the serial number on the bar itself.

Discussion & Detection
The most obvious difference in the packaging is the edge of the assay card.  The genuine assay cards are of a laminated plastic construction.  They use a stiff plastic card with a built-in pocket for the bar and a clear flat cover over the back.  The layers are bonded across the entire surface of the card (except for the pocket where the bar is held).  The counterfeit uses a cardboard assay card and a two-piece plastic shell that is heat sealed along the outside edges only.  Newer fakes do exist with much more convincing assay cards.
We refer to this as "second generation" counterfeit assay packaging.  It is the same construction as the first generation, with the exception of having a clear window around the bar.  On first generation packaging, white cardboard extended all the way to the bar, and the product lacked the clear window/frame surrounding the bar that is featured on genuine Pamp packaging.  To the best of our knowledge, the silver Pamp fakes were never packaged in first generation packaging.
Unfortunately, due to a high copper content, this counterfeit bar very closely matches the electrical properties of silver, and the Precious Metal Verifier does NOT reliably identity this bar as fake.  In this case of this first generation packaging, the differences in the assay card construction and appearance still make it easy to identify.