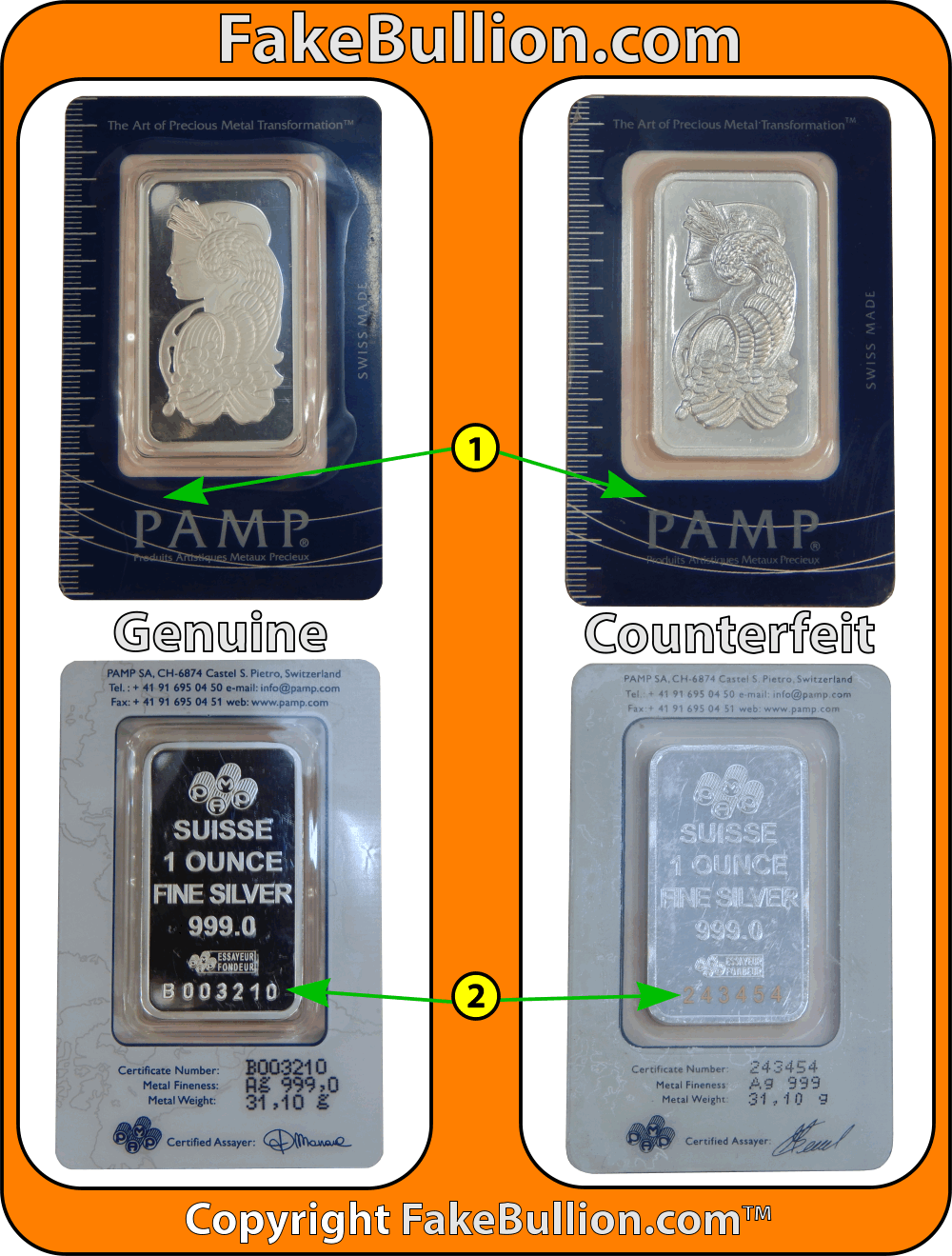 Notable Differences
The swooping line stays above the first "P" in PAMP on the genuine assay card, but touches the top of the "P" on the counterfeit card.
On this genuine bar the serial number is stamped into silver, but appears to be printed or laser marked on the counterfeit bar.  However, on newer production genuine Pamp bars, the serial number is laser marked, so this difference is not necessarily an indicator either way.
NOTE: the scuffs, scratches, and somewhat dull appearance on the counterfeit bar are due to the protective film covering the the assay card.  When removed, the packaging has a glossy finish that very closely matches the genuine packaging, and the proof-like finish on the bar itself is also a very close match to the genuine bar.

Discussion & Detection
We refer to this as "third generation" counterfeit assay packaging.  It is an extremely close replica of the genuine Pamp packaging, constructed in the same manner with the same or very similar materials as the genuine packaging.  The dimensions of the assay card are a match (with only a slight difference in thickness).  On one sample the assay card was slightly transparent when held up to a bright light, allowing the map lines and serial number to show through from the other side.  However several other counterfeit examples were opaque like the genuine packaging.
Unfortunately, due to a high copper content, this counterfeit bar very closely matches the electrical properties of silver, and the Precious Metal Verifier does NOT reliably identity this bar as fake.  The line touching the letter "P" is a giveaway, however that could easily be fixed on future counterfeits.  Newer genuine Pamp bars do have laser marked serial numbers, so there is less distinction there too.  The counterfeit bar does weigh more than the genuine bar when both bars are weighed in their packaging, however we would need a larger sample size to determine if that is a consistent indicator.  At this time it seems that to definitively test these bars, they must be removed from the packaging so the bar weight and dimensions can be checked.  We are experimenting with other testing methods and will revise this information if other tests prove reliable.