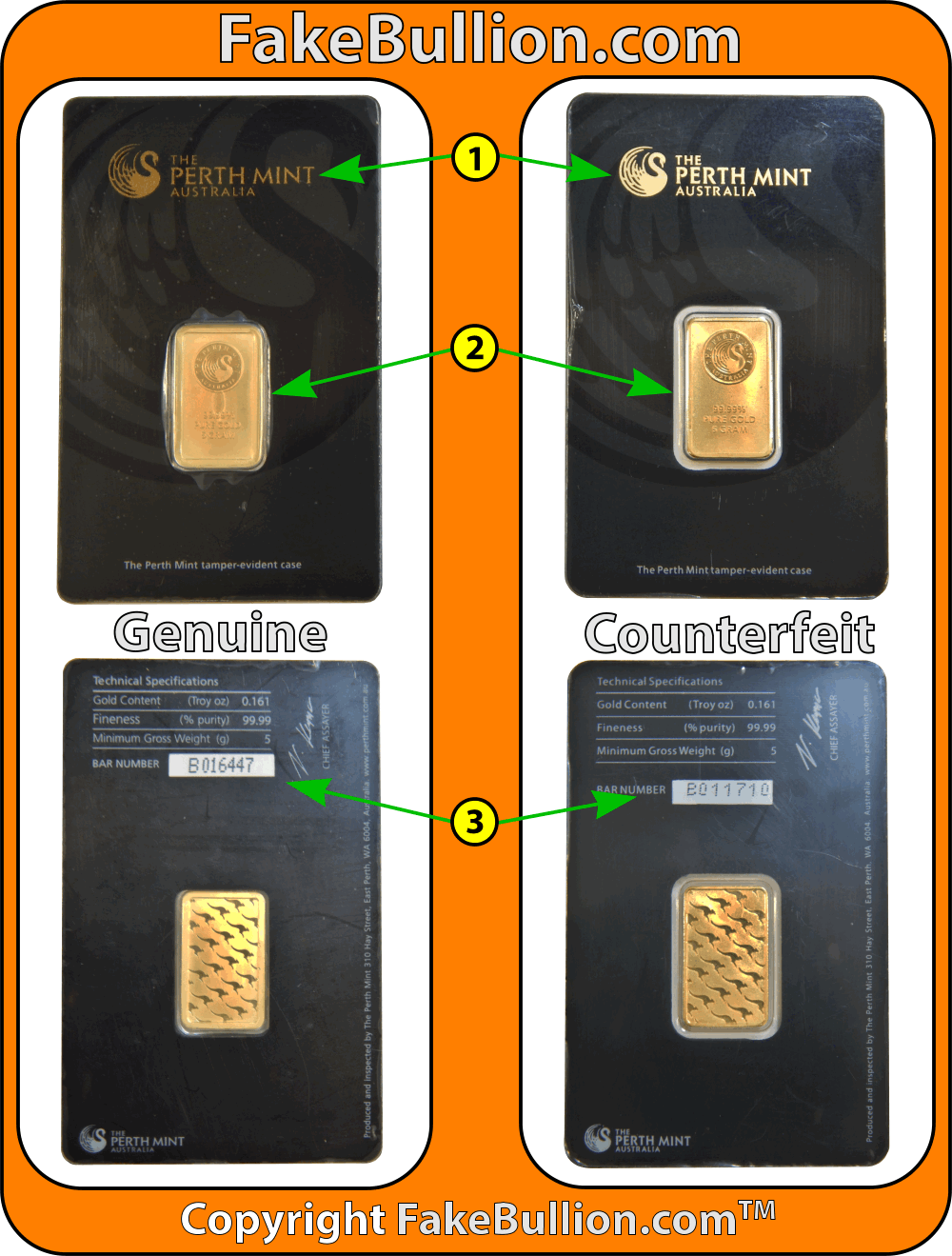 Notable Differences
The "Perth Mint" lettering is slightly thicker/bolder and is printed in a slightly brighter gold color on the counterfeit assay card.
The transparent "window" surrounding the bar is larger on the counterfeit assay card, measuring approximately 18.2 mm wide by 27.5 mm tall, where it measures approximately 15.5 mm wide by 25.0 mm tall on the genuine card.
The technical data is spaced too far apart on the counterfeit card.  The bottom of the serial number box is approximately 20 mm from the top edge of the genuine assay card, but approximately 24 mm from the top edge on the counterfeit card.
NOTE: the scuffs, scratches, and somewhat dull appearance on both bars, as well as the "folds" around the bar on the genuine card, are due to the protective film covering the assay cards.  When removed, both cards have a very similar glossy finish.

Discussion & Detection
We refer to this as "third generation" counterfeit assay packaging.  It is an extremely close replica of the genuine Perth packaging, constructed in the same manner with the same or very similar materials as the genuine packaging.  The dimensions of the assay card are a match (with only a slight difference in thickness).  While some counterfeit assay cards are transparent when held against a bright light, this sample was completely opaque.
The incorrectly spaced technical specifications on the back of the counterfeit card are the easiest difference to spot, however that flaw could easily be corrected on future counterfeit cards.
The Precious Metal Verifier did identity this bar as fake using the small wand on the 9999 gold setting, however in testing other counterfeit Perth gold bars, we have found examples that contain enough copper to mimic the electrical properties of gold, resulting in a reading on the PMV that would suggest a genuine bar.  The PMV PRO addresses this issue by measuring the thickness of the bar through the plastic packaging, and then providing a length and width footprint on the screen to check the dimensions of the bar, effectively verifying that the density matches the expected density of gold.