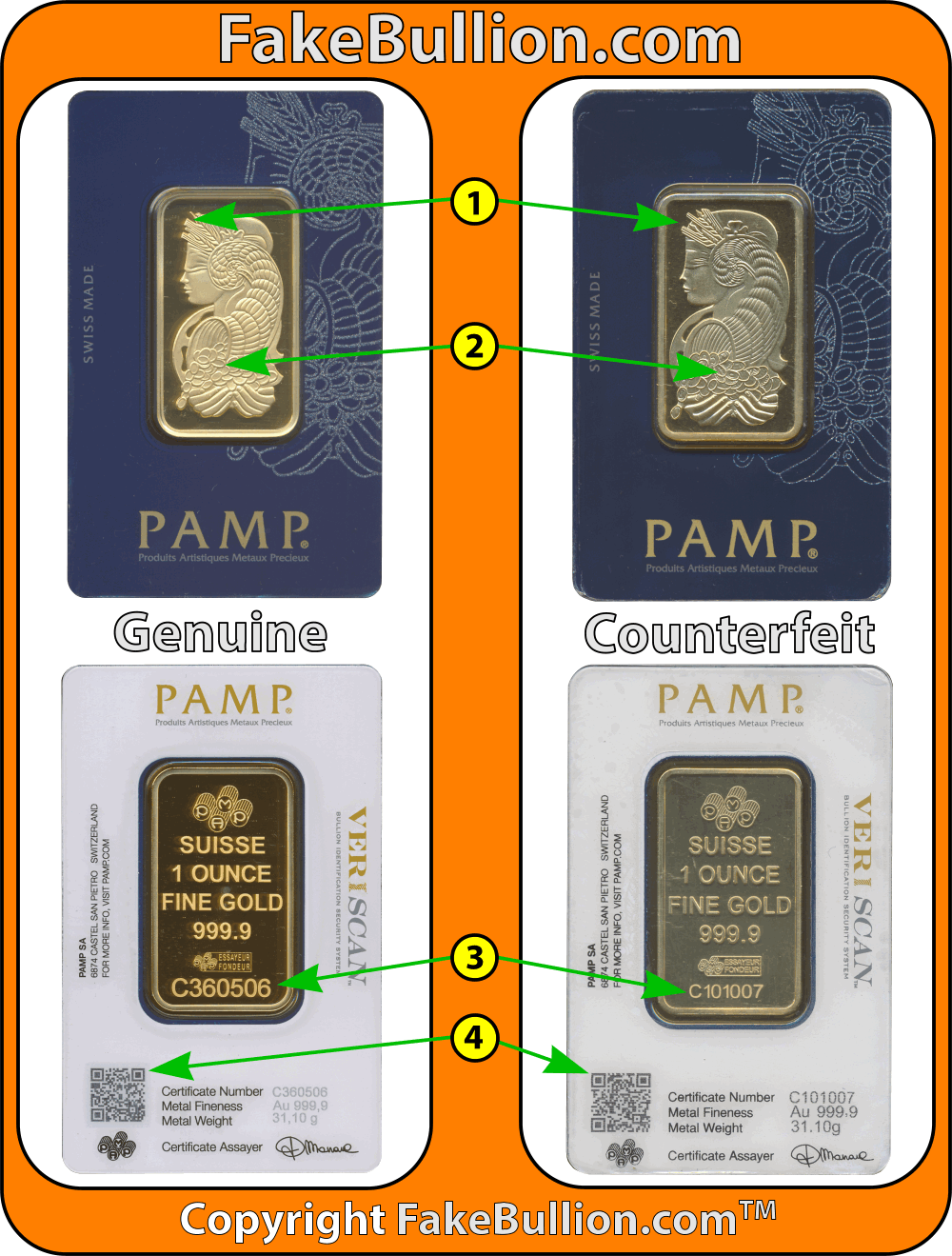 Notable Differences
The profile and spacing of the wheat sheaves is different.
The counterfeit bar has more detail on the coins and more lines on the horn, which does not match the current production genuine bars.
The serial number is smaller on the counterfeit bar.
When scanning the QR code on a mobile device, both codes do eventually arrive at the same web page.  However, the code on the genuine packaging also contains the individual serial number of the bar, where the code on the counterfeit packaging does not.
NOTE: the somewhat dull appearance of the reverse of the counterfeit gold bar is due to the protective film covering the the assay card.  Our sample genuine bar did not have the protective film on the reverse of the assay card.

Discussion & Detection
This counterfeit packaging is an extremely close replica of the genuine Pamp packaging, constructed in the same manner with the same or very similar materials as the genuine packaging.  Identifying this counterfeit visually requires very careful attention to detail.  The counterfeit bar, and therefore the counterfeit assay card in the "bubble" area around the bar, is noticeably thicker than the genuine bar.  There are small differences in the detail of the Fortuna design.  The counterfeit bar is a closer match to an earlier generation of Fortuna bars, but those details are incorrect for the current production Fortuna bars in Veriscan packaging.
The counterfeit bar contains a high level of copper, bringing the resistivity of the alloy close to that of gold.  While the Precious Metal Verifier using the Large wand is able to distinguish the genuine bar from the counterfeit bar, this test is not reliable on the smaller fractional bars. 
Pamp's Veriscan program is available as an iOS app for iPhone 6/6S or newer (covers a limited number of products), or as PC software to use with a specific document scanner and a positioning bracket.  Scans are free for the first month with the iPhone app, and a set number of scans are included with the purchase of the positioning bracket for the PC software.  After that, scanning bundles/credits must be purchased.