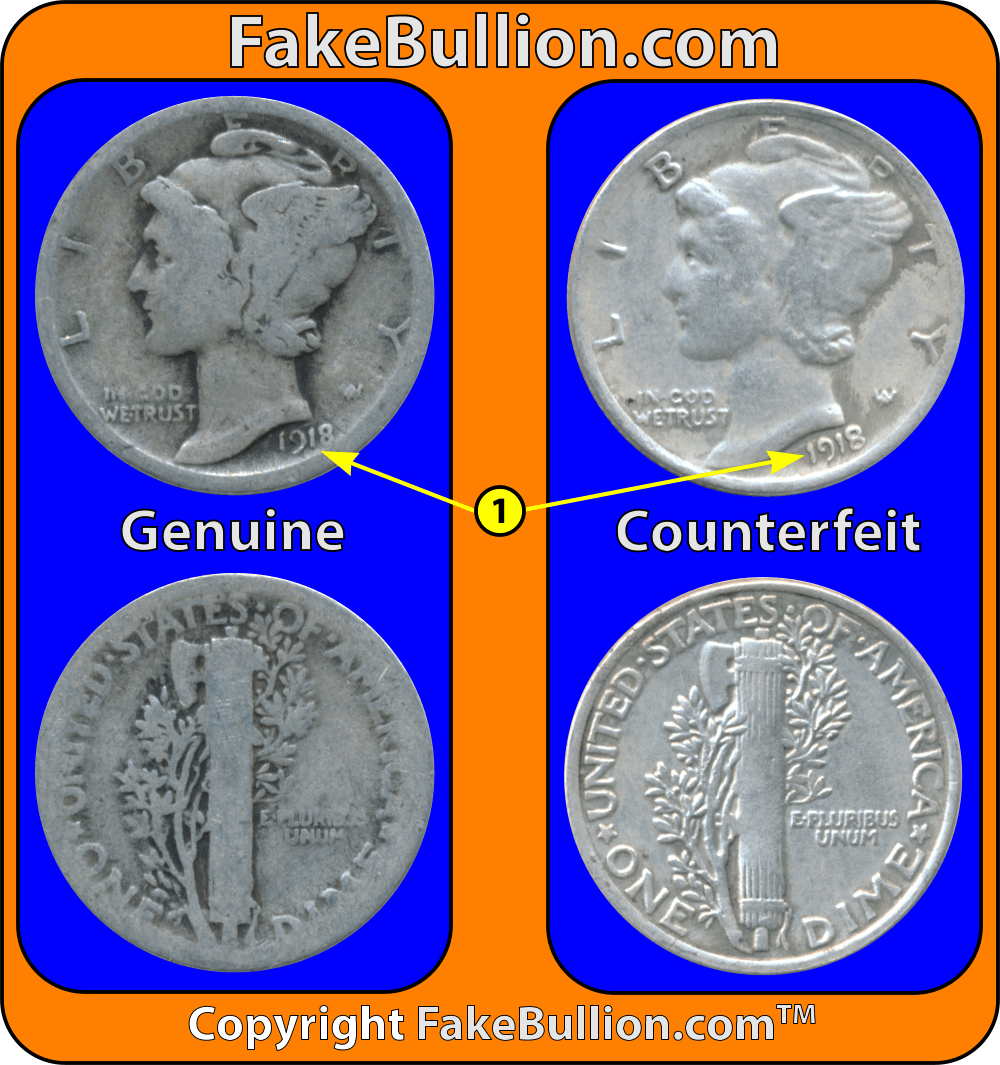 Notable Differences
The date is angled slightly more on the counterfeit coin.
Discussion & Detection
While most past counterfeit low-denomination coins targeted coins with numismatic value, modern counterfeit US 90% "junk silver" now exists in nearly every type, date, and mint mark ever produced, including the most common of dates which typically trade only for the bullion value. 
This particular counterfeit dime stands out as it has less wear than most common bullion grade Mercury dimes, however the coins are aged to varying degrees by the counterfeiters, and can be further aged by scammers to more closely match the group of coins to which they are adding the fake coins.
While there are a few smartphone apps that check the "ring" or "ping" frequency of gold and silver coins, they do not (yet) have settings for 90% silver coins.  This counterfeit dime rings very similarly to the genuine dime.  Without using a meter or an app to quantify the frequency, the "ring test" leaves room for subjectivity and error.
The Precious Metal Verifier, using the optional Small Wand on the "Silver 90% US pre-1945" setting, correctly identified this counterfeit dime with a "right arrow" reading.  The Precious Metal Verifier PRO, using the small bridge sensor on the "Silver 90% Coin 1900-1945" setting, also correctly identified the counterfeit dime with a "right arrow" reading.  In both cases the genuine dime also read to the right side of the expected value, however the reading was only a few blocks outside of the brackets on the original PMV, and the numerical values on the PMV PRO were much closer to the expected value when compared to the counterfeit dime.  Testing 90% silver coins with a PMV can be tricky, particularly with older coins where there is more variation in the genuine 90% silver alloy, but is probably still the best non-destructive testing method currently available for testing 90% coins.