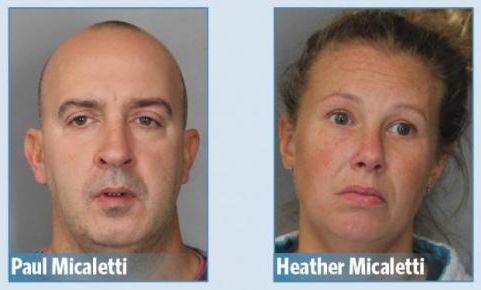 OCEAN VIEW, DE - An Ocean View couple faces charges after police say they sold counterfeit gold bars and coins to Sussex County residents.
Delaware State Police began an investigation Oct. 24 after receiving a report about the sale of counterfeit gold bars and coins over the internet, said Sgt. Richard Bratz of the Delaware State Police.
In July, he said, one victim met with Paul Micaletti, 41, and Heather Micaletti, 34, who were selling gold bars for more than $1,700. The victim made the couple sign and date a receipt stating the gold was real, Bratz said. Paul Micaletti then told the victim that the bars belonged to his father-in-law who had passed away.
Paul Micaletti also provided a fake invoice from a mint shop for 100 units of gold that his father-in law purchased for more than $38,000. In October 2016, Bratz said, another victim purchased more gold bars in the amount of over $8,000. Combined, the victims paid more than $35,000 for counterfeit gold bars and coins, he said.